By Janet Engel, OT/L, CAPS
Grab bars are the number one recommended safety equipment in a bathroom. A grab bar can help reduce your fall risk in the bathroom. Almost everyone is familiar with the common grab bar. It is silver, large, and for many unsightly. However, over the years manufacturers have created a better looking version of this equipment. Some grab bars even have a vinyl coating making them non-slip or may even have antimicrobial technology. As the baby boomer population increases year after year, it is becoming more common to see grab bars in private residences as opposed to only public or commercial buildings where ADA (American with Disabilities Act of 1990) is mandated.
ADA Requirements for Grab Bars
Grab bars can be installed at any height and orientation, and in any location in the home. They are most commonly installed in the bathroom, but can be a significant fall prevention measure when installed along a wall, near a stairway such as on a garage wall, or adjacent to a door. ADA requires that grab bars be installed between 33" to 36" above the finished floor, however, this may be too high for some people, especially for women. Women aged 65 and older are slightly more likely to live alone than men, due to a higher life expectancy and decreased likelihood for getting re-married.
A grab bar placed at a height of 30" in the shower may be just right for a shorter person, especially if the user is performing bathing tasks from a seated position. Grab bars can be used to leverage your weight and assist the user in going from a standing to seated position or vice versa. They can also prevent a fall in the bathroom by providing a solidly secured surface to hold on to. Grab bars should always be installed on a stud or reinforced wall to prevent it from detaching. A grab bar installed in a wet area should also have non-slip properties. Grab bars can generally support between 250 pounds and 1,000+ pounds, depending on the brand.
Different Types of Grab Bars
Grab bars come in a variety of lengths. Some companies offer customizable lengths. The standard lengths for a grab bar are 18", 24", 36", 48", and 60". They can be installed vertically, horizontally, or diagonally. Some companies have designs that are installed on one wall and wrap around another wall where they are secured. Wall hung cabinets that are used for storage can also be equipped with a grab bar. This design is completely seamless, functional, and beautiful. Have you heard of folding grab bars? They are both versatile and functional and can be installed on any wall to serve any purpose. For example, a folding grab bar can be used to help you get up from the toilet or help you step into the shower.
Safety in the Shower
When it comes to the shower, there are also beautiful and contemporary options such as a multi-function hand shower with a slide bar. This is the ultimate blend of function, safety and convenience. In addition, the toilet paper holder/grab bar serves a dual purpose, saves space, and minimizes wall clutter. There are also grab bars attached to sinks to enable the user to stabilize themselves when standing or assist them in getting up and down from a seated position.
Grab bars also come in many different colors and finishes. There are companies that make brightly colored grab bars that can be used to create color contrast for people with low vision or used simply to match your existing bathroom decor. Finishes such as chrome, matte black, copper, and brass are also available to create a high end look that does not sacrifice safety, accessibility, or function.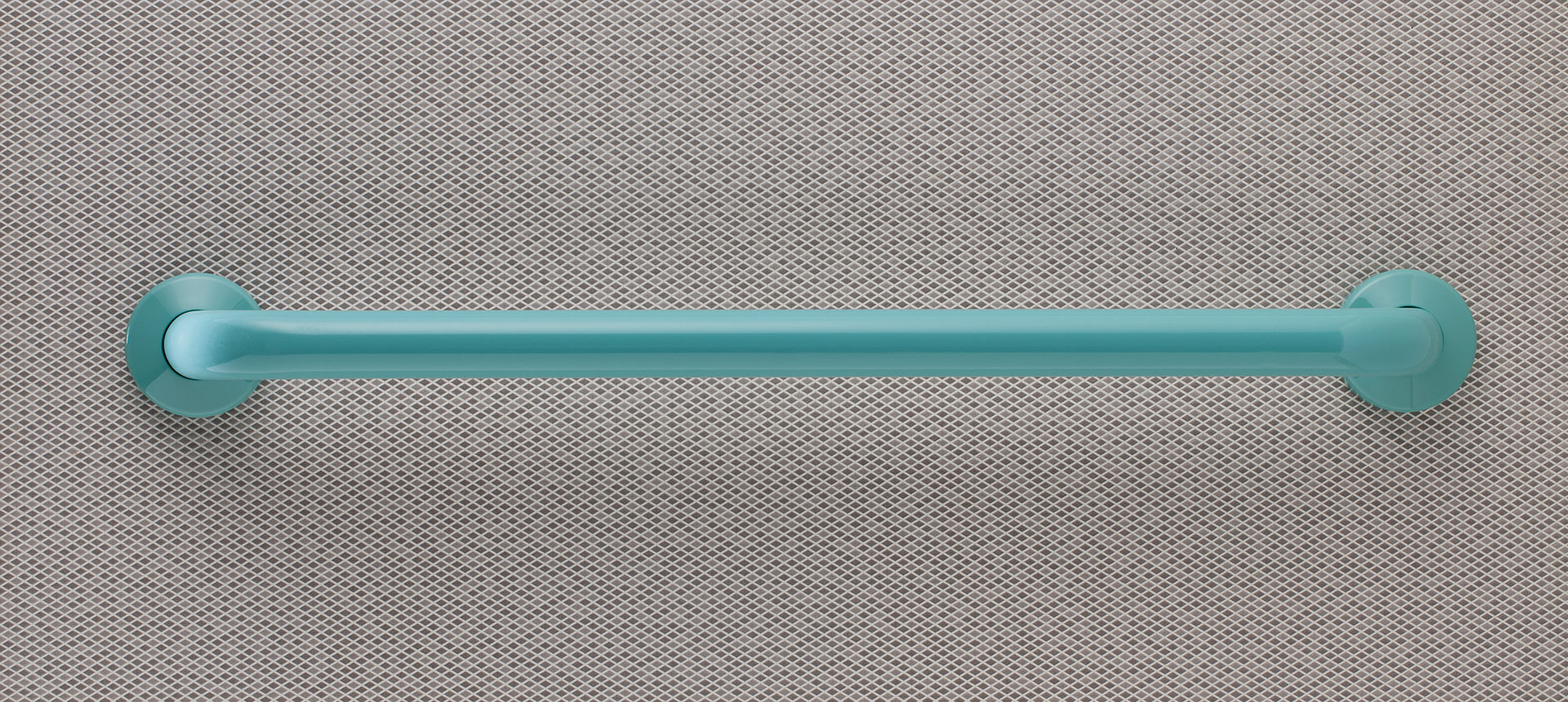 In summary, function, accessibility, and safety are not incongruous with beauty and style. The right team of professionals (an occupational therapist that is also a home modification expert and an interior designer) can help you create the look you want in your bathroom without throwing safety by the wayside. As the population of baby boomers increases, companies are going to create more and more products that meet the consumers needs and desires. We don't have to settle, we can have our cake and it too or in this case hold our beautiful, functional grab bar and admire it too.